Driving alongside the picturesque vineyards toward Mont Marie, a relaxed presence fills your every desire toward an evening of non-molecular fine dining, but rather fine dining in real food.
Mont Marie, a Restaurant of Distinction was conceived through the passionate drive of the 32 year old Pieter Vlok and the kind support of Whitey Basson who made Pieter's dream a reality. In support of his passion, Pieter as owner and Executive Chef also has the backup support of his general manager Carmen Schmidt who comes with almost 21 years experience to take the Restaurant to a new level of ambience, service and most of all, an amazing dine-out experience with family and friends.
On entering Mont Marie Restaurant you are met by the hospitality of the front of house manager who guides you to the terrace overlooking the splendour of the dam and the beauty of the Blaauwklippen Valley surrounded by the gracious Hottentots Holland Mountains, with the setting sun changing the landscape scenery every few minutes.
The interior is well designed and modern styled, with an open plan kitchen where the delightful dishes are prepared.
Feeling relocated to another world, Chef Pieter makes his appearance with a word of welcome while we sample homemade bread, poppy seed lavash, hummus with a honey & mustard sauce and garlic emulsion. The dishes on the menu are well selected with a choice of either a two or three course meal.
The Seared Tuna starter with sweetcorn salsa, avocado, Asian dressing and crispy leek, melts in your mouth, not to mention the perfectly combination of flavours of the Smoked Rump Salad with greens, baby tomato, coleslaw, croutons and pesto dressing – which stimulates the taste buds.
The Pork Belly as a main course served with roasted vegetables, apple sauce and a soy sauce was out of this world.
The medium Beef Sirloin was cooked to perfection with a jus complementing the dish. The Vegetarian dishes are not forgotten and one can indulge in the Falafel served with confit potatoes and coleslaw with Malay mayonnaise.
Treat yourself to the Lemon & Poppy seed soufflé with lemon purée, home-made lemon ice cream and crème pâtissière.
Should you like something less sweet, the Local Cheese Platter with a selection of local cheeses, preserves, honeycomb and grissini is the perfect way to end off a fabulous day out – washed down with a refreshing glass of Chabivin Brut Rose 2011.
Compliments to Pieter Vlok – as an Executive Chef you serve well designed, prepared, and beautifully plated dishes with passion from your kitchen. Mont Marie offers breakfast and lunch Wednesday to Sunday, and dinner on Thursday, Friday and Saturday evenings.
The Restaurant is closed on Mondays and Tuesdays. Furthermore, Mont Marie can facilitate various private group functions, even small weddings in its selected entertainment lounge and private bar.
Mont Marie is looking forward to accommodate corporate clients with Corporate Functions like Full & Half Day conference as well as entertaining overseas clients for breakfast, lunch or dinner. Set menus are created for groups of 10 and upwards with choices on the Starter, Main & Dessert. For any birthday party or any special celebration, Mont Marie is the place of choice with many of the locals and foreigners.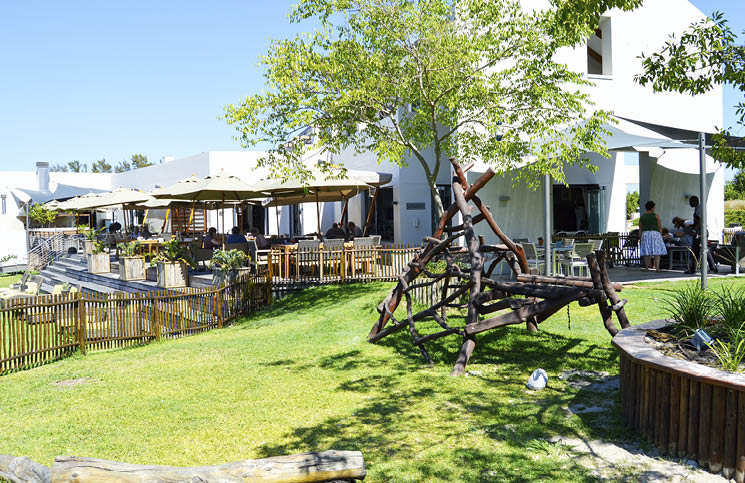 The Kiddies play area see parents stopping by for Breakfast, lazing away into lunch, with no haste or urgency to leave. The enclosed play area assures that the kids are safe and parents can still throw an "eagle's eye" from the deck on their little ones, whilst enjoying a crisp glass of white wine while overlooking the dam.
Trust Pieter and his team to make your eat out experience memorable. Visit Mont Marie for a an unforgettable food experience that will stay with you for a long time.
Remember to make a booking ahead of your next visit.
For more information contact 021 880 0777, email or visit www.montmarie.co.za