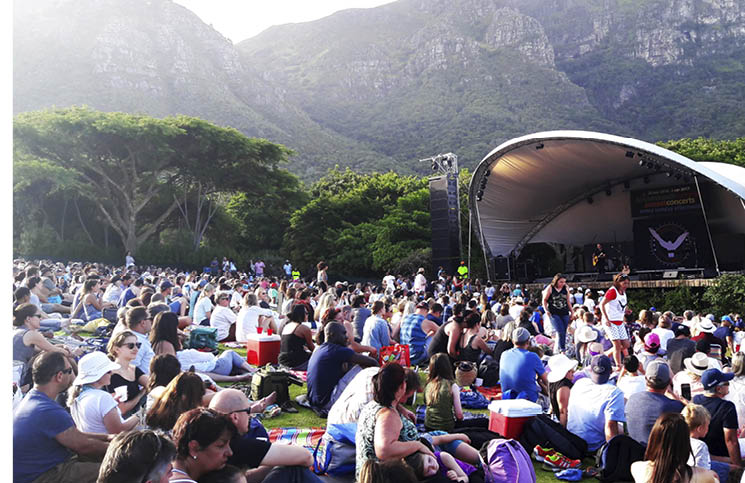 It is that time of year again, when fans of the Kirstenbosch Summer Sunset Concerts start digging out their picnic baskets and planning their weekends. The line-up for the most iconic events of the Cape Town summer scene looks to surpass all others.
There are three high profile international acts joining the local stars, and a nice mix of old favourites and new faces. Other international stars are: The UK's The Christians on March 11 – famous for 'Forgotten Town', 'Ideal World' and a host of other top 40 hits; Petite Noir hails from Belgium and his La vie est belle / Life Is Beautiful sums up the season. Petite Noir will be joined by Cape Town band Slow Jack.
The local stars more than hold their own in the firmament of acts. Majozi will be joining Matthew Mole on 10 December; and The Kiffness who will take the stage with Goodluck on 4 March 2018.
If camping was allowed over the Christmas holidays in Kirstenbosch, the concert lawn would be booked out from 23 December to the beginning of January, with Mango Groove, Goldfish, Hot Water, Freshlyground, Prime Circle and the Parlotones following one after the other.
And if you need cheering up after the new work year begins in mid-January, there will be Fokofpolisiekar, the Soil, Beatenberg, Alice Phoebe Lou, Lira, Jeremy Loops, Dan Patlansky and Albert Frost to keep you in the mood for summer.
And of course, who could forget the annual treats of The Cape Town Philharmonic and the Cape Town Folk 'n Acoustic Music Festival?
For more information visit www.webtickets.co.za